Huston promises more '
Magic City

' steamMagic City

, a steamy, explosive drama set in 1959 Miami about a casino owner (Jeffrey Dean Morgan) and his dangerous dealings with a hot-tempered mobster (Danny Huston).

Gorgeously produced in Miami, the show returns for its second season on June 14, and Huston promises even more fireworks between his Ben Diamond and Morgan's Ike Evans.

Question:

What changes can we expect in Season 2?

Answer:

The powers are certainly opening up. We now have an influence from Chicago in a new character being introduced by James Caan. In a way, he is Meyer Lansky to my Bugsy Siegel. He is coming to control me, but he is quite paternal in a godfather kind of way.

Q: That sounds appropriate.A: (Laughing) It is. Then there's this other dynamic of trying to get the casinos up and running in Cuba, and being involved with the mob trying to get rid of Castro. Then, for Ben, he also has a certain amount of time on his hands. He's a fallen emperor in a way, and with that comes a whole sexual depravity which is actually quite shocking.
Q: You say "sexual depravity" and I just have to ask you to clarify.A: (Laughing) Well, you know, it's this terribly sordid triangle between Ben and Lily (Ben's wife) and Stevie (Ike's son). He can potentially use that in regards to damaging Ike, who he really wants to own. And with that comes this strange sexual triangle, in which Ben likes to observe them, as if on a one-way mirror.Q:

Caan seems like he'd be quite a force to work with.

A:

He's incredibly dynamic and wonderful to perform with. There's a real danger there that is (palpable). In a sense, he's the real deal. My nickname in the series is "The Butcher," and I think his father was actually a butcher. He's also very present as an actor. In one scene I was shouting at him, and he goes, "Don't shout at me in my home!" (Laughing) I was offending Jimmy, not the character.

Q:

You and Morgan have had electric scenes together.

A:

I absolutely adore working with him. He's got this Robert Mitchum feel. He's wonderfully direct, yet you don't really know what he knows or what game he's playing. He's got a great poker face, and it makes Ben have to really search to know him.

Q:

Your character could go over-the-top, but you always manage to ground him to reality. Is that tough?

A:

I suppose that most men with that kind of power don't really have to overstate their presence or raise their voices unless it's in a moment of vigor. I think that gives him a certain ease.

Q:

How much do the clothes and the jewelry and the suntan add to the character?

A:

(Laughing) Well, I think it requires a great deal of courage on my part to wear the kind of Speedos I'm sometimes required to wear. Lounging by the pool like sort of a Roman emperor with the oil rubbed on ... it just really helps. And I'm a big believer in shooting in the actual place, and Miami just helps with the heat and the humidity. Miami just exudes something.

Q:

What about the smoking? You guys smoke as much as the

Mad Men

cast.

A:

My apologies, but it was the period, and I suppose there is a certain nostalgia to the ignorance of not knowing it's causing harm. I do thoroughly enjoy a cigar, and again, Miami and humidity seem to add something to cigar smoking.

Q:

This is your first regular role on a TV series. Do you enjoy it?

A:

What I find daunting is that in a normal three-act format, I can know where my character is going so I can monitor my acting. With TV, you basically don't know what's going to happen. I suppose that's a little bit like life, but it's different.

Q:

Is that uncomfortable?

A:

Yes, but (writer-creator) Mitch Glazer is my friend and somebody whom I respect, so I know I'm in good hands.

Q:

Also with a regular movie role, you do the role and you're done with it before you can get bored with it.

A:

It's also strange to me that a year passes and you get back into the character, and somehow he feels very familiar, so you haven't really shed him. I hope I don't carry too much Ben Diamond with me in my normal life, but obviously he's still sort of there.
STARZ Network's Magic City – Season 2
On June 14th, the Latin heat returns as STARZ Network premieres the second season of the hit original series MAGIC CITY.
Set in Miami Beach 1959, MAGIC CITY, provides the sultry backdrop for the riveting tale of the city's emergence as an international destination for celebrities, politicians and America's most notorious gangsters. As Miami reels from the aftershocks of political unrest in Cuba, the Miramar suddenly finds itself the new home for armed Cuban exiles longing for home and a den of intrigue between the CIA and Miami's own ambitious State's Attorney. Gangsters flushed from their cash-rich Havana casinos look to find a new revenue stream on the sunny beaches of Florida. Ike Evans will use the turbulence in the "Magic City" to his own ends — risking his friendships, his family and his own life.
Season two counts with the return of the entire Evans family including Jeffrey Dean ask Ike, Olga Kurylenko as Vera and Steven Strait as Stevie along with their threats and allies such as Ben Diamond as Danny Huston and Matt Ross and Dade county's DA Agent, Jack Klein. Furthermore, we are introduced to new characters such as Shalim Ortiz's, the Cuban sugar heir, Antonio Rivas, who falls in love with Mercedes Lazaro (Dominik García-Lorido), daughter of Victor Lazaro (Yul Vazquez) who operates out of the Miramar Playa, assembling an army against Castro and Esai Morales as Carlos "El Tiburon" Ruiz, a Cuban exile.
'Magic City's' second round is sinfully satisfying
By Jeanne Jakle
You'll be hard-pressed to find a summer series that embodies this seductive season more perfectly than "Magic City."
The Starz drama, which begins its sophomore outing at 8 p.m. Friday, certainly looks the part. The setting is a luxury hotel in 1959 Miami Beach called Miramar Playa, where patrons spend their days sizzling by the pool and their nights enjoying the fresh ocean breezes.
"Magic City" also is stocked with gorgeous women, either beautifully dressed in jewel-toned fashions that make your eyes bug out or beautifully undressed, their enviable shapes covered in shimmery skin made for sin.
It's the era of
Frank Sinatra
,
Jackie Kennedy
, muscle cars marked by flashy fins and sexy swaying on ballroom floors.
Beneath the elegant facade, however, is a constant sense of pulsating danger, a threat as formidable as a ravenous shark — the Miami mob, led by Ben "The Butcher" Diamond. The ruthlessly ambitious Diamond, played to perfection by the scene-stealing
Danny Huston
, is an increasingly painful thorn in the side of
Ike Evans
(
Jeffrey Dean Morgan
), the loving proprietor and part owner of Miramar Playa. Ike rues the day he ever got into business with the murderous mobster.
Season two opens with our hero behind bars awaiting a possible murder trial for events that resulted from his dealings with Diamond. Most of the season is built around Ike's efforts to extricate himself from the mobster. He even attempts to make a backroom deal with Diamond's boss,
Sy Berman
of Chicago. He offers to get into the hotel biz with Castro in Cuba and turn over the profits if Sy frees his precious Miramar from part owner Diamond.
The "Godfather" element of the show is strengthened by the addition of
James Caan
as Sy. He's the second actor from the Coppola classic to join "Magic City";
Alex Rocco
(Moe Green in "The Godfather") plays Ike's dad.
This gritty plotline may be the central story of "Magic City," but it's far from the sole one. Just as compelling are side dramas involving Ike's colorful family. Wife Vera (Olga Kurylenko) is a former dancer whose many charms swept Ike off his feet after the death of his cherished first wife. In the new season, she seeks to relive her previous glory onstage while strengthening her role at the hotel.
Meanwhile, Ike's super-rich,
Grace Kelly
-like ex-sister-in-law Meg (Kelly Lynch) tries to ease back into his world. Meg not only aids Ike financially but also starts to play a bigger part in the life of his impressionable youngest child, Lauren.
Then there are Ike's handsome, and very different, sons. Eldest boy Stevie (Steven Strait) devotes nearly every waking hour to the hotel, which he views as his future legacy — that is, when he isn't walking a very risky personal tightrope. He's fallen for Diamond's bewitching young wife, Lily (Jessica Marais), while getting closer and closer to the mobster business-wise.
Danny Evans (Christian Cooke), by contrast, is more interested in the right side of the law; he lands an internship with Dade County's state attorney, Jack Klein (Matt Ross), who doggedly pursues Ike in an attempt to hook the bigger fish, Diamond. Danny may find himself straying a bit from the straight and narrow, however, courtesy of the enticing Judi Silver (Elena Satine), whose Marilyn Monroe looks make easy prey of men with fat wallets.
"Magic City" not only is a feast for the eyes with its opulent late-'50s glamour, but an emotional thrill ride with its potent mix of romance, raw sexuality and treachery.
Footnote: Newcomers should be able to get into season two with a minimum of confusion. However, the best way to approach it is with knowledge of season one. You have until Friday, so why not stream, rent or buy it for an even richer viewing experience?
Black Sails

: In Production Now
See what makes the pirates of Black Sails different than those you've encountered before, in this look behind the scenes at production of the new STARZ Original Series. What kind of pirate would you be?
Black Sails premieres January 2014 only on STARZ.
++++++++++++++++++++++++++++++++++++++++++++++++
++++++++++++++++++++++++++++++++++++++++++++++++
++++++++++++++++++++++++++++++++++++++++++++++++
The Voyeur. A Sensual Domination. Preview
from
Bigue Selles
So what happens when you take one of the Top Pro Dommes in the country and put them with our Amazing beautiful Subbie star and let them go at it.. Unabridged.. Protocols and D/S lines get a little blurry. Things get downright Primal between these two.. especially when there's a Voyeur in the corner to impress! This is another UNABRIDGED Scene.. 40+ minutes.. NO One yells CUT... These two completely forget that I am documenting their entire encounter, as only BnSFineArt can do! So here comes another FetPlanet.com special folks, For Kinksters, By Kinksters.. So get comfy, rest your feet on your subbie's back, and let Goddess Phoenix show you how it's done.. Full DVD (exit interview AND Gag reel) out by Independence day!
++++++++++++++++++++++++++++++++++++++++++++++++
THE MAIDS
Intense: Cate Blanchett and Isabelle Huppert during rehearsals for The Maids.
The Maids
, co-adapted by Andrews and STC artistic director Andrew Upton, is a ''rough and carnal translation'', Andrews says. ''Earlier versions have used good old-fashioned English. I think ours has the poetry of Genet. The language is very shocking because it would have been when he wrote it. We want the play to be a very visceral and emotional experience.''
Hints of its potential impact are heralded on the STC website: ''Warning! Contains adult themes, strong language and nudity.'' Andrews doesn't believe the ''nudity'' warning is warranted, however. ''They change clothes, bras and undies on stage but it's not really about that,'' he says. ''It's the ideas in the play that are confronting and they are extremely radical still. There's still the class war that no one wants to believe exists yet that's the fracture line the play is written on.''
Maids of dishonour, Cate Blanchett and Elizabeth Debicki, unite for STC's Genet
CATE Blanchett and Elizabeth Debicki are eating lunch in a private room overlooking a bright blue slice of Sydney's Walsh Bay.
Sitting side by side, they're a compelling study in similarities. There are the elongated mannequin's limbs, the extravagant cheekbones, the long necks and wide mouths, and a certain milky blonde luminosity. Also, there is the same opaque reserve and low, precise enunciation.
The Maids - review
The Maids | Sydney Theatre Company - review
You really must go see Cate Blanchett spray Chanel #5 on her privates in @sydneytheatreco's #TheMaids. My review at suzygoessee.com/2013/06/07/the…
— Suzy Wrong (@SuzyWrong) June 8, 2013
* Liz Debicki is an ethereal beauty. Talented to boot. Her first nude scene in a movie/play/series should be incredible. She has that fearless but subtle vibe so I won't too be surprised if she goes full-frontal in her nude initiation.
+++++++++++++++++++++++++++++++++++++++++++++
Crisis star Rachael Taylor is a hopeless romantic
ANYONE wanting to know about Rachael Taylor's love life needn't look too far.
The New York-based actor has written, directed and stars in a trilogy of romantic comedy short films she says reflect her own love life.
Bridget Jones' Diary
,
Pretty Woman
and even some Woody Allen stuff," said Taylor.
"Part of it is me. I really love that genre. I have this theory that people in LA are looking for fame and fortune and people in New York are after love and money."
The actor who most recently dated fellow actor Josh Lawson and before that troubled Matthew Newton said she was in a happy place.
Professionally she is gaining prominence after landing a lead role in
Crisis
, alongside Gillian Anderson.
* Rachael Taylor is one of the hardest working actors around. Still the recognition factor remains below average for the blonde in the States. Making it worse, she and

Isabel Lucas

are often confused with each other. It seems like casting directors initially saw Rachael as first option and Isabel the back-up. Rachael was in first Transformers and Isabel made her proper American entry in Transformers: Revenge of the Fallen. But things have changed around with Isabel willingness to strip on-cam (with conditions attached) after first few lean years and Rachael adamant about not taking her clothes off in American flicks. She is a very patriotic Aussie - a trait appreciated by Americans including Rachael commitment and industriousness have notched her some good roles in flicks and TV-shows that didn't do so well.
Having said all that, it should be reminded Rachael supposed to do her first proper nude scene in HBO sex dramedy Washingtonienne back in 2008. That's how HBO envisioned it staying faithful to anal-loving Jessica Cutler book and casting (at that time) trio of unknowns open to various degree of nudity.
Rachael, Bitsie Tulloch and Canadian Amanda Walsh aced the audition. The pilot was filmed. But reportedly Sarah Jessica Parker had other ideas and shifted almost 180 from Cutler's lurid account to the shallow Sex and The City influenced series. Instead of talking (and moaning) about themselves, shopping, apparels and sex - the girls of Washingtonienne......well.....I think they did the same. HBO was less than impressed. They expected the SATC sugar-coated treatment and SJP aiming it at female demo but sleazy factor was basically non-existent and it was way too heavily budgeted to HBO liking.
Jackie (Taylor) the intern gets hot and heavy with her BF. April (Tulloch) plowed by much older congressman and treated like a whore by other politicians who sees her as easy lay. Laura (Walsh) the stiff-backed conservative finds herself constantly surprised by fellow Republicans, learning the hard and kinky way on the bed. Times have changed. HBO wants to appeal to both demos. Guys wants a balance of endless chit-chats with T-and-A.
The show was put on ice - unofficially dead but SJP didn't give up for almost a year fighting to put on her own creative touch on it only for HBO to put her and the series out to pasture.
Podcast with her good friend Riki Lindhome, Bitsie talks about Washingtonienne (from 32:00) and (from 53:20) about her first nude scene in Caroline and Jackie which ended up on the cutting room floor.
http://www.voicebase.com/autonotes/public_detail/61461
By the way, that's BS from Bitsie about walking away from Washingtonienne
if HBO insisted on signing the nudity clause in their favor after the pilot screening. She was desperate for work, it was her first high-profile job and if the show was picked-up with the other two girls on the tow about doing nudity, she will be cast as the villain of the piece in the press. And as a struggling
young

actress, Bitsie certainly don't want to be on the bad books of HBO and SJP. Do keep in mind she auditioned first for the Jackie role which required nudity as well.
She originally auditioned for the role of Jackie but they call her back to test-read for April.
You also discover why Bitsie struggled for years to make a fist of her career. She is strong-willed and stubborn unwilling to bend to the conventional of the biz. An attribute - especially if you're a female in HW - can be a double-edged sword. After the success of first season, Bitsie pressured the Grimm writers into making her character more involved with the titled hero in every way possible with the idea she would be the female version of Grimm in the future. She wants own angle (separate plot thread) to her character in the same way Monroe currently enjoys due to his popularity.
How I Went From Harvard to Hollywood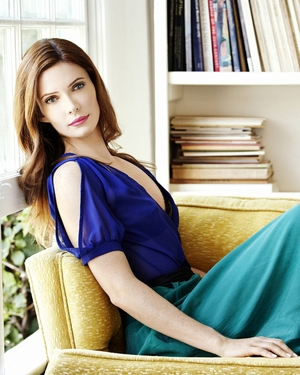 When I was a little girl, I wanted to be a civil engineer. No joke. I would come home from school and build bridges out of toothpicks and see how much weight they would hold before falling. By high school, I was obsessed with literature and the fine arts, and ended up majoring in both at Harvard. The plan was then to go to England for my MFA, and end up a curator or a professor. I love this quote my friend told me recently: "If you really want to make God laugh, tell him your plans."
I had decided to defer from graduate school for one year because I was tired of academia and needed a break. That's why I found myself in Los Angeles the day after graduation, master plan cast aside for the time being. One day I was dragged by a friend to an acting class she was too scared to go to, and the rest is history. I fell in love. And a bit of hate. I almost didn't want to love it enough to turn my back on the certainty of a cozy life of academia. But it was too late for me. My acting teacher did not have me at hello, but she had me about an hour later when she sent me home with Clifford Odets' "Golden Boy" and a week to prepare. As somebody who had never really acted before, you can imagine how daunting this was.
Perhaps predictably, my initial approach was bookish. I sat in class taking notes, too afraid to look up for fear of making eye contact with my teacher and being called up onstage. It was terrifying in a way academics could and would never be, and at the same time, electrifying. Acting was like a tumultuous love affair. Sometimes I loathed the idea of going up onstage and was so angry I had to do it, but once onstage, in character, I felt the romance awaken and once again, I was in love.
After a few years of studying pretty intensely, I found myself auditioning for small parts here and there. I also went to jury duty and made a friend. I didn't know anything about him other than he was a screenwriter, but we kept in touch from time to time and a few months later he read in the LA Times that Bitsie Tulloch, aka "that girl from jury duty," was starring in a play called "Quarterlife," which was coincidentally the exact same name as a pilot he was planning to shoot. That man's name – and never in my life will I not credit him for all the amazing things that followed – is Marshall Herskovitz. His partner is Ed Zwick, and they have won numerous Emmys and Oscars for TV shows such as "Once and Again," "My So-Called Life," "Thirtysomething," and films such as "Shakespeare in Love," "Traffic," and "Glory."
In 2007, after many auditions, Ed and Marshall cast me as the series lead of their web-to-TV series "Quarterlife." We shot for a few months, I flew to NYC to do a press tour and felt like a rock star, then the show premiered to low numbers and we were pulled. The next day. Since the cancellation wasn't announced yet, and despite the fact that my heart had seemingly imploded, I was expected to continue with my press tour, i.e. go live on the high-energy and fast-paced "MTV's Total Request Live" with a huge smile on my face. I summoned energy and humor from depths within that I didn't even know existed. It ended up being a great (if unwelcome) acting lesson.
I went from "Quarterlife" to shooting a high-profile comedy pilot called "The Washingtonienne" for HBO. We shot the pilot, but then were under a talent holding deal while it was being re-tooled. About 12 months later we were told it wasn't going to get picked up after all. That was a tough phone call for me to get. I love everyone at HBO, loved the other two females leads on the pilot, and I loved working with our producer, Sarah Jessica Parker. But you get a phone call like that, and you pretty much have no other option than to pick up the pieces and move on. In this town, you need have skin thicker than a rhinoceros wearing a suit of medieval armor.

That 2010 pilot season, I did a Fox comedy that didn't get picked up. I was starting to get frustrated, and when my now-ex-boyfriend decided he wanted to direct a low budget independent, I jumped on board as co-producer. It was also my first starring role in a feature. And in a serendipitous turn, David Giuntoli, who plays my boyfriend and lead detective Nick Burkhardt on "Grimm," played my boyfriend in the movie, "
Caroline and Jackie
," which premiered at the
Tribeca Film Festival
this past April.
I was then cast in "The Artist," which was an extraordinarily magical experience.
Heidi Levitt
, who cast me in my first feature film, "Lakeview Terrace," a few years earlier, was casting and I was so excited to go in and read. I went all in – costume, hair, and makeup were as 1930s as I could come up with, and I went for it. Apparently I was deemed too young for the role I had auditioned for, but they wanted to work with me and offered me the role of Norma. It's a small role in the middle of the film, when Jean Dujardin decides to write and direct his own "jungle" movie. I'm the damsel in distress trekking with him through the jungle. Michel Hazanavicius was incredibly generous and did a wonderful job re-creating that time period down to the smallest details. And that movie deserves every bit of the success it's enjoyed.
Now we arrive at the fairy-tale ending, literally and figuratively. Six months after we had wrapped our roles on "Caroline and Jackie," I once again found myself in the arms of my charming, handsome, and talented "faux beau," David Giuntoli. I am currently well into my second year of living and working up in beautiful Portland, Ore., where I shoot NBC's drama "
Grimm
." We are in the middle of shooting episode eight (of 22) of our second season. I am so lucky to wake up every morning and work with such a wonderful writers, producers, actors, and crew.
Right now, I'm sublimely happy and feeling blessed. However, this was not an easy journey, and I'm well aware it's far from over. But as many times as I've wanted to throw in the towel, I don't. I stick around. Because every so often the puzzle pieces fit, and lord knows, I am addicted to the work. I am never happier than when I am on set and getting to act. And I can't wait for what is yet to come.
November 7, 2008 |
FEMALE players show off their ball skills at the first-ever naked European Championships.
There were more curves than a Beckham free-kick and more boobs than England's U-21 flops as teams from across the Continent gathered and got their kit off at the tournament in Germany.
There were no British representatives at the contest as teams from Italy, France, Sweden and Germany tussled in the buff on the astroturf at Berlin's Palais am Funkturm.
As far as tactics go, most sides unsurprisingly opted to play with two up front - although there did seem to be more than the usual number of strikers.
And there were plenty of handbags, as these stills from crunch games show.
Some sides opted to keep their, erm, shorts on while kit for others consisted only of socks in team colours.
Even the male ref stripped for the occasion, part of an erotic expo.
Despite all the flesh on show, games struggled to sell out.
Footage from the event shows just a few pint-sipping punters on the sidelines.
As for a result, they were all declared winners...
---
If it takes off in the UK, these girls could play for...
Nudecastle United
Totty-nham Hotspur
Bristols City
Chest-erfield
Breast Brom
Crude Alexandra
Arse-n'all
Nip-swich Town
Bare-mingham City
Peek-aborough United
+++++++++++++++++++++++++++++++++++++++++++++
Full Uncensored Drama Actress Emmy Roundtable
Top actresses dish on bad auditions, funny jobs and crafting their characters. Watch THR's conversation with Anna Gunn (Breaking Bad), Kerry Washington (Scandal), Monica Potter (Parenthood), Elisabeth Moss (Mad Men), Kate Mara (House of Cards) and Connie Britton (Nashville).
+++++++++++++++++++++++++++++++++++++++++++++
Crappy movie. Yayaying was in the first part of the movie as well but there was only quick flash of nip-slip. Here she goes all the way...at least by Thai standards. Like every country with mainstream movie industry, graphic sex and nude scenes are usually performed by foreigners. But sometimes we do get gems like this. The pop singer also appeared in
Only God Forgives
with Ryan Gosling. I don't think she did anything risque in the flick. My original interest in the Jan Dara series is solely to see if the gorgeous and skanky (off the cam)
Savika Chaiyadej
gets on the nude act. Nada. She played it safe. After being pilloried by the press for having an affair with a famous actress husband, Savika left the country to try her luck in India.
Mini Biography
Born Rhatha Phongam, Thai actress and pop star Yayaying (Ying for short) is the daughter of famed comedic actor Noi Phongam. Yayaying has recorded with some of Thailand's top talents, and released her
debut
album when she was only 16. She is also an excellent dancer, and has studied ballet since she was 6 years old.
An international talent- fluent in both Thai and English, Yayaying has stared in productions in Thailand Germany, and most notably in acclaimed director Nicolas Winding Refn's "Only God Forgives", along with Hollywood star Ryan Gosling.
Yayaying is now filming as the headed cast of "Jan Dara" the erotic Thai movie base on the novel by Utsana Phleungtham about the sexual rivalry between a Thai nobleman and his illegitimate son directed by ML Pantewanop Devakula on September 2012 release in Thailand.
Trivia
She speaks fluent English and Thai.
Her parents divorced when she was 6 years old.
"Because you loved me" by Celine Dion was the song she picked for her audition when she was 16 years old.
+++++++++++++++++++++++++++++++++++++++++++++
porn starlet Tessa Lane @

Kerri Maier

(full-frontal), first time nudies Becca Perrel (breasts) and Sandra Hinojosa (breasts) in Reel Evil (2012)
24-years old busty Tessa Lane
Humongously talented, hugely gifted model-actress Becca Perrel is 26 and also known as Adrianna Adams of Playboy
29-years old model-actress Sandra Hinojosa is actually Native American. A very religious individual.
+++++++++++++++++++++++++++++++++++++++++++++